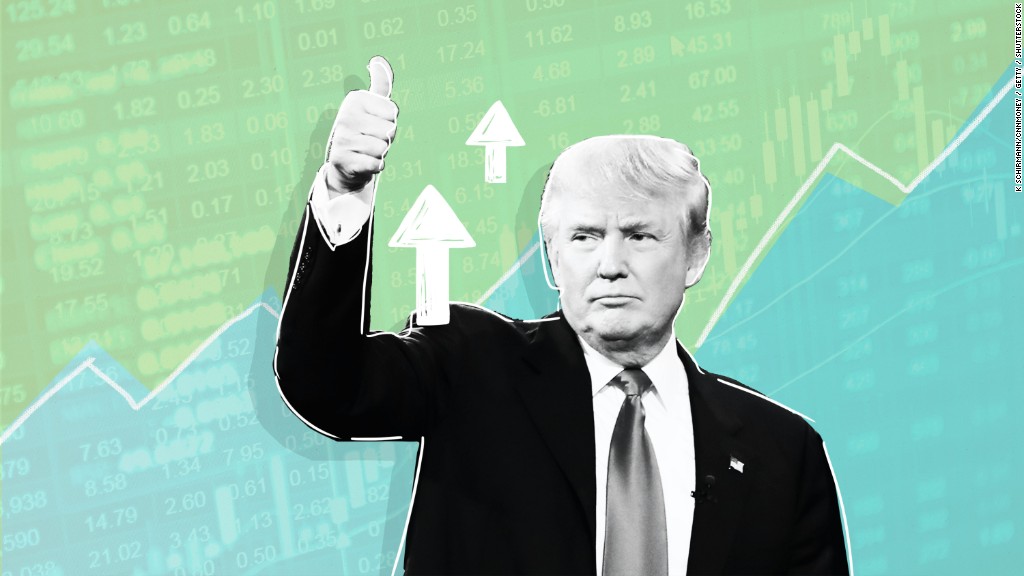 U.S. stocks climbed sharply on Monday as Wall Street's fears about the North Korea nuclear crisis faded.
The S&P 500 rallied 1%, notching its biggest gain since late April. The Dow climbed 135 points.
Worries about saber-rattling between President Trump and North Korea helped drive U.S. stocks last week to their worst performance in nearly five months.
"This is a sigh-of-relief rally. It appears calmer heads will prevail here," said Art Hogan, chief market strategist at Wunderlich Securities.
Investors poured back into tech stocks, which had tumbled last week as people cashed out of winning stocks like Apple (AAPL). The Nasdaq jumped 1.3% on Monday.
Related: CEOs keep turning on Trump
There were other signs that fear is fading: Gold retreated for the first time in four days. The VIX (VIX) volatility index plunged by 22% after springing back to life last week.
Prices for ultra-safe government bonds also fell, lifting yields on Treasuries after they hit a six-week low on Friday. CNNMoney's Fear & Greed Index remains in "fear" mode, though it edged away from the "extreme fear" territory it neared last week.
Wall Street seemed to mostly shrug off Trump's attack on Kenneth Frazier after the Merck CEO quit the president's manufacturing council in protest of the president's response to the events in Charlottesville. Trump said that now Frazier "will have more time to LOWER RIPOFF DRUG PRICES!"
But Merck (MRK) shares rose modestly, while the iShares Nasdaq Biotechnology ETF (IBB) climbed 1%, in line with the rest of the market.