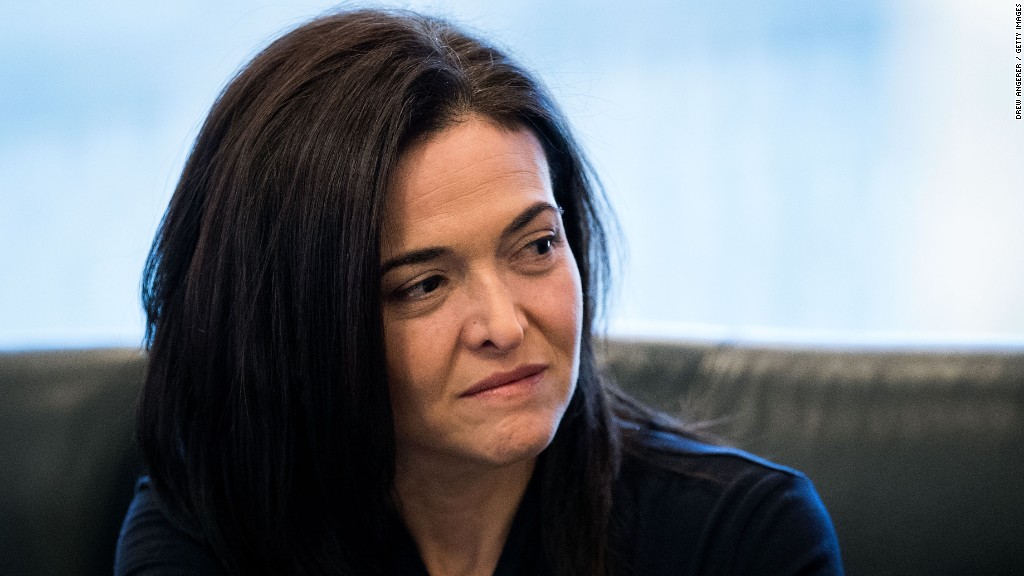 In 2013, Sheryl Sandberg coined a two-word phrase that would soon emblazon tote bags, daily planners, feminist conference agendas and more: Lean In.
In "Lean In: Women, Work and the Will to Lead," the Facebook COO mapped out a plan for female success in a male-dominated world. She used examples from her own life. She banned the word "bossy." She advised women to "sit at the table."
All good advice -- for a certain kind of woman, and to achieve a certain kind of success.
Five years later, as the #MeToo movement rallies women to challenge systems of power in politics, Hollywood and beyond, some say Sandberg's advice didn't go nearly far enough.
Related: Sexual harassment tipping point: why now?
"She wasn't saying 'blow it all up,'" says Morra Aarons-Mele, a digital political consultant and founder of Women Online. "She was saying 'Work with what's there. Work as hard as you can and when you get to the top, you can change it.'"
Challenging the model
Critics of "Lean In" said it idealized a traditional leadership model as the only path to gender equality.
By not directly challenging the leadership model that keeps men in power, Sandberg's book "protected the patriarchy," says Laura L. Bierema, professor of adult learning, leadership and organizational development at the University of Georgia.
"If you want to address more equality and inclusion in the workplace, you have to challenge patriarchy, you have to recognize and challenge implicit bias," Bierema says. "Those are the things that are really going to get traction if we're ever going to bring women into parity with men."
That, and liberating women to define success for themselves, independent of corporate titles.
In Aarons-Mele's book "Hiding in the Bathroom: A Roadmap to Getting Out There (When You'd Rather Stay Home)," she included a chapter titled "Lean In Less." She says she wanted readers to visualize their own ideas of success, ones that maybe don't deify "having it all."
"There's a reason why anxiety levels among young people are skyrocketing -- young women in particular," she says.
Related: The crucial role male mentors can play in the #MeToo era
When Sandberg published "Option B" last year, a book about the loss of her husband and the challenges of single motherhood, she partly acknowledged the original book's shortcomings.
"Before, I did not quite get it," she wrote in a Facebook post. "I did not really get how hard it is to succeed at work when you are overwhelmed at home."
Still leaning in
According to Rachel Thomas, president of LeanIn.org, the Lean In mission empowers women to make individual change, as well as face larger problems.
"Systemic change can sometimes be slow, and unfortunately, far too slow recently," she says. "So I think a lot of our early focus — and we continue to really see value in it -- is the answer to 'What can women do now?'"
The Lean In Foundation, which began in 2013 when the book was published, leads studies, surveys and campaigns, including #MentorHer, a campaign encouraging men to mentor women. And despite the critics, "Lean In" remains special to many women.
Since 2013, more than 35,000 "Lean In Circles" sprouted up around the world, and the community continues to grow by 100 circles a week, even five years later.
Nuala Murphy, a Lean In Circle leader in Belfast, acknowledges that between "Lean In" and "Option B," Sandberg's philosophy had room to grow. But for the women in her Circle -- now 1,400 members strong -- they just appreciated someone starting the conversation.
"What was really inspiring was someone speaking out and calling out the behavior," she says. "Even someone at the top of their game in a technology company was still able to observe the differences and the biases that exist ... Once you have that information, you understand and you see more of those barriers in the workplace."