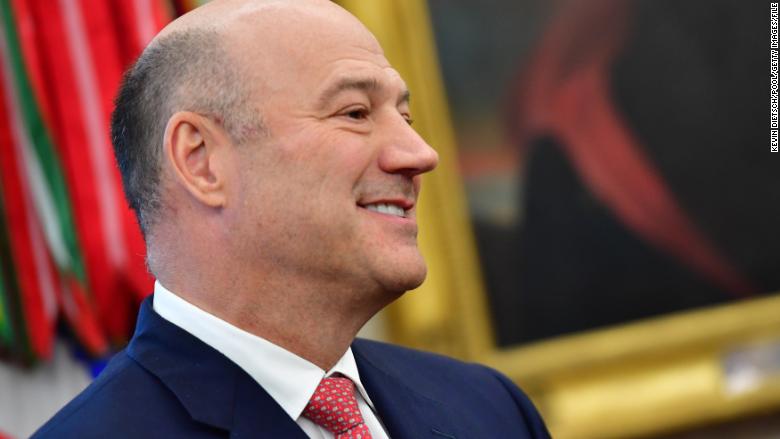 Gary Cohn, President Donald Trump's former top economic adviser, believes JPMorgan Chase CEO Jamie Dimon would be a perfect fit for the White House.
"Jamie would make a phenomenal president," Cohn said on Monday.
Cohn, who clashed with Trump over trade policy before leaving the administration in April, said his time in Washington showed him that there are similarities between running the country and leading a complex, multinational company like JPMorgan Chase (JPM).
Cohn, the former president of Goldman Sachs, made the comment during a Reuters event in New York. "I think Jamie would make a spectacular president," he reiterated.
The praise for Dimon comes a week after the JPMorgan boss created a stir by saying he could beat Trump in a race for the White House.
"I'm as tough as he is, I'm smarter than he is," Dimon said -- before quickly walking the comments back and saying he isn't running for president.
Trump fired back against "banker Jamie Dimon" last week on Twitter. He said Dimon is a "poor public speaker & nervous mess" who doesn't have the "smarts" to run for president.
While Cohn was emphatic about Dimon, he dodged questions on Monday about bombshell allegations contained in Bob Woodward's book "Fear."
Asked if the book was accurate in depicting Cohn as stealing a controversial trade document from Trump's desk, Cohn refused to comment.
"I've said what I'm going to say on the Woodward book," Cohn repeatedly said in response to questions. He even refused to say whether he took "unorthodox" measures to keep the country safe.
Cohn released a statement to Axios last week saying that the book "does not accurately portray my experience at the White House." The statement did not specifically deny the allegations.
The Trump administration applied "a lot of pressure" on Cohn to issue a statement supporting Trump, a source close to the White House told CNN last week.
As Cohn was being introduced on Monday, a moderator joked that he was missing "a piece of paper" from his desk. Cohn smirked broadly and took a sip of water, without commenting.
Cohn drew laughter with his response to a difficult question over whom he believed was the "better boss," Trump or outgoing Goldman Sachs CEO Lloyd Blankfein.
"Next question!" Cohn said while laughing and clapping his hands together.