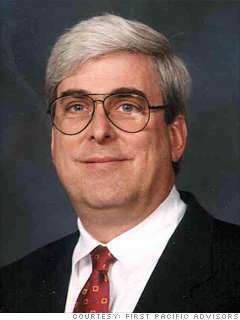 "Complex transactions and trades are going to be more difficult to do and to keep."
Thomas Atteberry, co-manager, First Pacific Advisors New Income fund
The managers at First Pacific Advisors in Los Angeles started shifting stock mutual funds to cash four years ago, and ditched Alt-A mortgage funds in 2005--well before many perceived the sector to be at risk. Atteberry predicts that the credit problem will continue to flow into every corner of the financial system. "People though it was just a sub-prime mortgage problem, but it's much broader--it's a matter of solvency, not liquidity," he says.
Over the next three to six months, says Attebury, more investors are going to try to withdraw their money from levered options such as hedge funds and credit default swap contracts. And pensions will be less likely to commit their funds to such outlets.
He won't predict when the crisis will let up, but he does offer a clue: "I'm still not buying stocks."
NEXT: The politician
Last updated September 18 2008: 11:43 AM ET
Email
|
Print
|

Digg this story
|
RSS