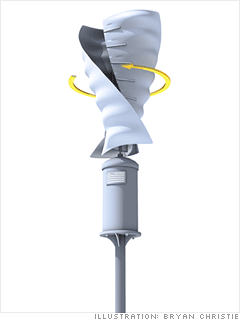 Helix Wind, San Diego
The elegantly sculptured Helix windmill turbine costs between $7,500 and $14,500, sits on a ten- to 25-foot pole, and is designed for residential backyards and commercial rooftops in low-wind-speed urban areas.
Founded:
2006
Technology:
The scoop-shaped aluminum-alloy blades are mounted vertically, allowing them to capture the wind from all directions while operating nearly silently, according to Helix. The compact seashell shape of the turbines - offered in two-kilowatt and four-kilowatt configurations - makes the turbine bird- and bat-friendly.
Energy production/savings:
One Helix turbine can power a typical home, and an owner should recoup the cost of the turbine in about ten years.
Stage of development:
The first production run of 50 turbines has been sold. A new tax break for small windmills in the recently passed bailout bill ought to help sales.
Reality check:
The turbine may face objections from local planning boards because of height or aesthetic restrictions.
NEXT: Floating power plants
Last updated October 15 2008: 8:45 AM ET
Email
|
Print
|

Digg this story
|
RSS