This is not the time to be called out as the person who put the raw-bar extravaganza on the company tab. Luckily, chefs are becoming creative - at these eateries, lunch for two can be had for under $50.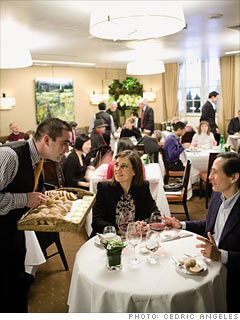 Cafe Boulud
20 E. 76th St.; 212-772-2600
Lunch special: $24 for three courses
New Yorkers don't kid around when it comes to client lunches, and the lunch special at Cafe Boulud is no joke: Three courses for less than half the price of ordering a la carte.
Chef Gavin Kaysen of Cafe Boulud says that crafting the special menu has forced his staff to be more creative. Menu items like a deconstructed Cobb salad take advantage of inexpensive ingredients accented by one or two stars - in this case, Maytag blue cheese and house-cured bacon. On one early-March afternoon the restaurant was packed, and 88 of the 120 diners ordered the prix fixe.
Meanwhile, Boulud's next enterprise promises to be equally wallet-friendly: In May he'll open DBGB Kitchen & Bar, a sausage-and-beer joint in downtown Manhattan.
Also try:
JoJo
, 212-223-5656. Jean-Georges restaurants now offer lunch for $24 to $28.
Le Cirque
, 212-644-0202. The Power Lunch Classic is settled into its new home and has Restaurant Week pricing ($24.07 for three courses) through 2009.
NEXT: Chicago
Last updated April 14 2009: 12:10 PM ET
Email
|
Print
|

Digg this story
|
RSS