Agriculture is having a youth movement, thanks to their passion for organic farming and local produce. Meet a half dozen under 40, chosen by the Mother Nature Network for their fertile ambition.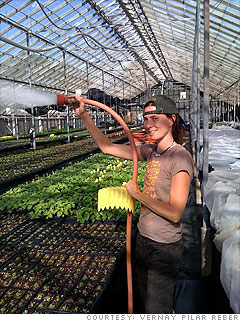 Vernay Pilar Reber remembers her first brush with pesticides. She had quit high school at 17 and moved to Florida to work for one of the largest nursery companies in North America.
Her initial job was collecting soil samples and testing nitrate levels. Soon she was promoted to pesticide applicator, considered a good position at the nursery. But at the same time, she started buying organic food and questioning the pesticides' effect on herself and co-workers. "I would come with a sick stomach and look like an Oompa-Loompa," she recalls.
So after skipping around farms from Ohio to California, and watching in horror as two chemical applicators' children were born with the same rare cases of corneal blindness, Reber, 37, opened her own nursery in northern California with a different approach. Five-year-old Sunnyside Organic Seedlings is more than half an acre under glass. It sells hundreds of vegetable, herb and plant seedlings to garden centers around the Bay Area, and even two Whole Foods stores. "After making it past the first year, I realized, `I'm going to survive,'" she says. "Now, I'm there.''
NEXT: The organic garden designer