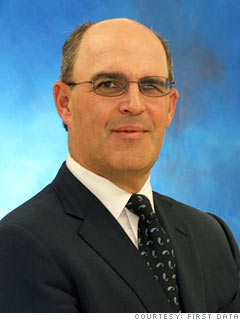 Chairman and CEO
First Data
2008 Total compensation:
$41.5 million
Source: Equilar Inc.
NEXT: G. Steven Farris
Last updated September 10 2009: 3:34 PM ET
Note: Total compensation includes annualized base salary, discretionary and performance-based bonus payouts, the grant-date fair value of new stock and option awards and other compensation. If relevant, other compensation includes severance payments.
Equilar Inc.
, an executive compensation research firm in Redwood Shores, Calif., prepared the chart by looking at companies with more than $1 billion in revenues that filed proxies by Aug. 15.