To keep their neighborhoods alive, Detroit's churches are buying and revitalizing local properties. Here's a look at 7 projects undertaken by one ministry, Greater Grace Temple.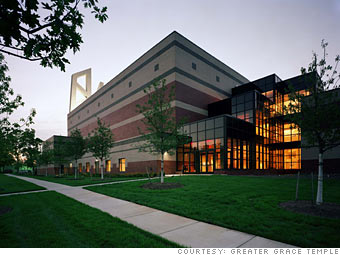 Based on Detroit's northwest side, Greater Grace Temple has a congregation of roughly 6,000. It hosted the funeral of civil rights activist Rosa Parks, who lived in Detroit and died in 2005.
The church was founded 82 years ago and has moved through various Detroit locations over the years. Its latest home, completed in 2002, is a sprawling complex that sits across 21 acres and encompasses a 33,500-square-foot sanctuary, a banquet and conference center, a housing complex, a school and a travel agency.
The church spent $35 million on the project, which it calls "The City of David." The site formerly housed Edgewater, a historic Detroit amusement park that shut down in 1981.
NEXT: Children of Grace Montessori Center