The backyard barbecue has gone high tech with new hybrid grills that sear, smoke, and roast. Get ready to become your neighborhood's top chef.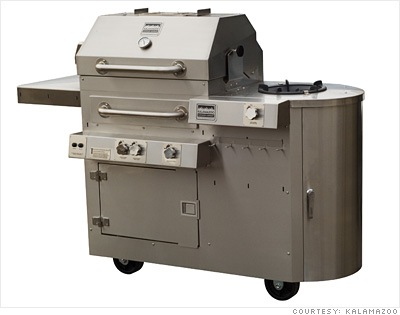 $10,245
The economy may be recovering, but if you're too shell-shocked by market volatility and flash crashes to splurge on that summer vacation or new set of wheels, why not upgrade your backyard grill instead? We don't mean the latest charcoal version -- we're talking super-high-end, industrial fire machines that do it all, a niche dominated by names you may not have even heard of, like Alfresco, Lynx, and Fire Magic.
Our favorite: Kalamazoo Outdoor Gourmet's K450HS, a hybrid model from a Michigan company that got its start supplying custom stainless steel to the dairy and drug industries. At over $10,000, it's an investment for sure, but this Rolls-Royce of grills has lots to impress: three square feet of grilling surface; the ability to cook with gas, charcoal, or wood; and an infrared rotisserie system. There's even a side burner to warm food or whip up stir-fries or sauces as your main course sizzles. That may require culinary creativity on your part -- but there's probably an app for that.
NEXT: Lynx