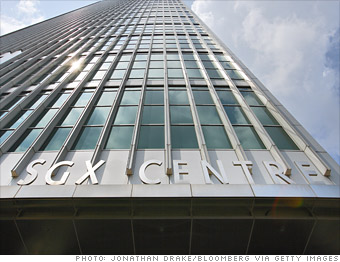 Singapore Exchange Ltd.'s SGX Centre headquarters in Singapore.
2009 GDP Growth: -2%
Population: 4.99 million
2010 Estimated GDP Growth: 5.7%
The global financial crisis of 2008 and 2009 hit Singapore's trade-oriented economy particularly hard, but this Southeast Asian country has one of the fastest growing economies in the region and is poised to make a big comeback.
The island state's strategic location on major sea lanes and its industrious population have helped its economy thrive -- it's averaged 7.8% real growth from 1965 to 2009. Although Singapore saw its worst two quarters in late 2008 and early 2009 as the global recession took hold of the economy, it has recovered quickly and is predicted to rebound stronger than expected. The country has benefitted from a broader recovery in regional economies as well as a $20.5 billion government stimulus package approved last year.
Singapore's Ministry of Trade and Industry expects its economy to grow 4.5% to 6.5% in 2010 -- much higher than the 3% to 5% initially projected.
NEXT: Uganda
Last updated July 01 2010: 4:35 PM ET
Source: Population figures from U.S. State Department; GDP numbers from International Monetary Fund