The rise of emerging markets means that seven global stars are from China and four are from India, including the first female CEO of a private bank in India (no. 10).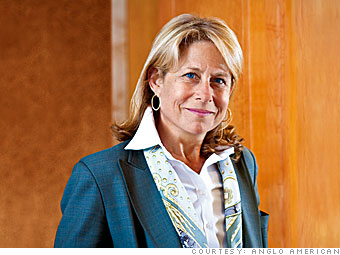 CEO
Anglo American
2009 rank: 1
Country: Britain
Carroll, 53, navigated Anglo American through a global slump to bumper profitability in 2010. Though operating profits dropped 50% to $5 billion in 2009, the mining company has made a resounding comeback, and in the first half of 2010 alone operating profits more than doubled to $4.4 billion.

Carroll cut staff by 25% and divested non-core assets like zinc, keeping her focus on diamonds, platinum and copper, the commodities most leveraged to demand growth in China and India.

In September 2010, Carroll was appointed chairman of subsidiary Anglo Platinum Ltd., giving her a more direct role in the world's largest platinum operation. She is also Director of BP Plc. and Director of the diamond leader De Beers, 45 % owned by Anglo American Plc.

With a $17 billion pipeline of low cost growth projects earmarked for 2011 and beyond, the Mini Cooper-driving geologist is also focused on mining safety issues.
NEXT: 2. Gail Kelly
Last updated September 29 2010: 6:20 AM ET