Inflation is weighing on the minds of many Americans experiencing a rise in prices from the grocery store to the gas pump. Here's where to park your money if you predict high inflation ahead.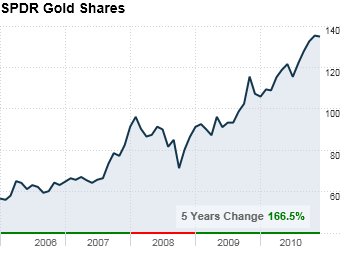 With the Fed's recent plan to pump another $600 billion into the U.S. economy, a rising chorus of investors is warning of high inflation, even as the Fed tries to allay worries. Earlier this month billionaire investor Jim Rogers called U.S. government inflation data "a sham" and told a Thomson Reuters summit, "Everybody in this room knows prices are going up for everything."
How does he recommend fighting it? By buying commodities. It's well-worn advice from Rogers but you can't argue that it hasn't been right. Since he predicted a commodities bull market in 1999, the benchmark S&P commodity index has risen 200%. Rogers said this month gold can still rise to $2,000 an ounce and silver can reach its previous high of $50 and go much higher in the next decade.
NEXT: Oil
Last updated December 28 2010: 12:32 PM ET