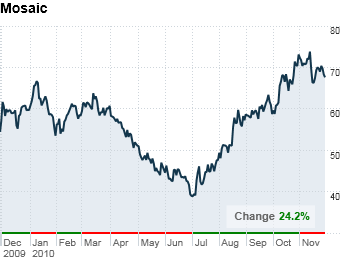 Market cap: $30.2 billion
2009 Revenue: $10 billion
P/E ratio: 15.4
Dividend yield: 0.3%
As corn goes, so go the makers of fertilizer. That's good news for Mosaic, whose stock has had an 89% correlation with corn prices (if 100% means mirroring them exactly) during the past five years, according to SIG Susquehanna agriculture analyst Don Carson. The price of corn has jumped 25% over the last 12 months, and inventories are at their lowest since 1995. The reason: Heavy rains and scorching heat caused the2010 harvest to decline 4% from 2009 -- even as demand rose, with ethanol now consuming 41% of the U.S. corn crop and growing wealth in developing countries leading to increased food consumption.
Mosaic is up only 11% for the year, which means it has some catching up to do. And with analysts expecting a 48% earnings rise in 2011, the stock (which trades at 15.4 times those estimated profits) seems primed to flourish.
Mosaic enjoys other catalysts for greater sales of its main fertilizer products, phosphate and potash. According to a recent Merrill Lynch report, China -- which accounts for 20% of phosphate exports -- may soon restrict its sale outside that country, creating potential opportunity for Mosaic to increase its market share elsewhere in the world. Meanwhile BHP Billiton's failed bid to buy Potash Corp. of Saskatchewan and the acquisition of Potash One by German fertilizer company K S Aktiengesellschaft underscore potash's statusas "a commodity you want to be invested in," says Jennifer Dowty, portfolio manager of the John Hancock Global Agribusiness Fund, which has a large position in Mosaic.
Because the cost of building a potash mine can run into the billions, supply tends to lag well behind demand. Potash prices have tripled since 2004, and the International Fertilizer Association is expecting demand to grow 4.5% a year in coming years. Such fundamentals validate Mosaic's decision four years ago to invest heavily in expanding existing mines in the U.S. and Canada. Mosaic's potash production capacity has grown 10% since 2006 and is expected to increase another 60% between now and 2020. And as it rises, the company's stock seems likely to follow.
NEXT: Agrium
Last updated December 20 2010: 2:27 PM ET
All stock prices as of Nov. 30; price/earnings ratios based on estimated 2011 earnings.