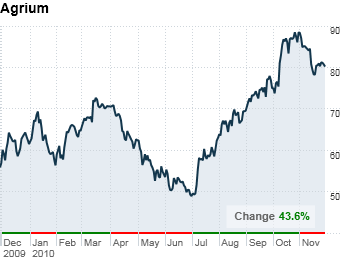 Market cap: $12.6 billion
2009 Revenue: $9.1 billion
P/E ratio: 11.8
Dividend yield: 0.1%
The basic argument for Agrium is similar to Mosaic's: Increased production of biofuels combined with rising global food demand means more need for fertilizer. But with Agrium that's only half the story.
Natural gas represents 80% of the cost of manufacturing Agrium's primary product, nitrogen fertilizer -- and the price of natural gas has fallen 50% since 2008. With U.S. gas production rising because of massive, recently exploited "shale gas" fields in Louisiana, Pennsylvania, and Texas, the International Energy Agency expects a gas "glut" to further depress prices in 2011.
Agrium's costs are dropping -- but that isn't the case for many of its competitors. Natural gas is difficult to transport, so new supplies in North America don't have much impact on prices elsewhere. "That gives Agrium a real competitive advantage," says mutual fund manager David Jordan, whose Agrium shares are among the largest positions in his Tributary Growth Opportunities Fund. Agrium's competitors in Eastern Europe are paying prices twice as high. Indeed, according to a Citigroup report on shale gas and its impact on the chemical industry, Agrium is the best positioned of all major fertilizer companies to benefit from the falling price of natural gas.
Agrium is not only a manufacturer of fertilizer but a retailer of it as well, as the company operates a 1,200-location chain of farm-product stores in six countries. This, says Richard Kelertas, an ag sector analyst at Canada's Dundee Securities (Agrium is headquartered in Calgary), allows the company to capture more of the spread between falling production costs and rising retail prices. "It's also a stable business with better margins," Kelertas says, noting that customers are buying not just products but services. "If the farmer is spending a lot of money on specialty seeds and fertilizers, he's not going to want to have inefficient application systems."
Agrium's earnings are on pace to jump 60% in 2010, and analysts are expecting another 44% bump next year -- giving Agrium's stock a forward P/E of 11.8.
NEXT: Dow
Last updated December 20 2010: 2:27 PM ET
All stock prices as of Nov. 30; price/earnings ratios based on estimated 2011 earnings.