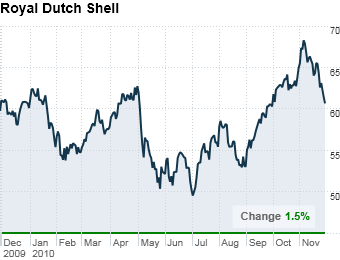 Market cap: $108 billion
2009 Revenue: $278 billion
P/E ratio: 8.3
Dividend yield: 5.5%
Offshore drillers like Transocean tend to be the energy sector's more volatile stocks. If wild rides aren't your thing, consider Royal Dutch Shell. "Buying this stock is kind of like buying a utility with a call option on oil prices," says Greg Padilla, co-manager of the Nuveen Tradewinds Global Resources fund, which owns a significant Shell stake. Padilla means that as a compliment, but we'd go further. Yes, the stock has attributes that conservative investors favor, such as low debt and $28 billion a year in free cash flow. Shell's 5.5% dividend yield is higher than Chevron's (3.6%) or Exxon Mobil's (2.5%). It trades at a bargain 8.3 P/E, a shade below the 9.1 average for its peer group (and well below the S&P 500's 13).
But Shell is also a growth story. Analysts expect it to increase profits at a higher rate than any of its Big Oil brethren over the next two years. The reason? Many of them are struggling to find enough new oil to offset depletion in old wells. By contrast, Shell is expanding reserves and pumping up production. "They're one of the few majors with significant production growth," says Ben Fischer, portfolio manager of the Allianz NFJ International Value Fund.
The key has been Shell's hefty investment in research and development, typically higher than that of any other oil company. Next year, for example, Shell will open a $19 billion plant in Qatar that uses state-of-the-art technology (backed by 3,500 Shell patents) to convert Qatar's abundant natural-gas supplies into 260,000 barrels a day of diesel and other liquid fuels.
Shell has another advantage: geography. Much of the world's oil and gas is located in countries that are politically unstable, riddled with violence, or run by corrupt politicians (and sometimes all of the above). Perhaps burned by its experiences in places like Nigeria, Shell is now placing some of its biggest bets on unconventional oil-and-gas production in ultrastable countries such as Australia, Canada, and the U.S.  "People tend to look at Royal Dutch Shell as a safe place to get a dividend yield, which it is," says Fischer. "But it has a really good set of strategic initiatives going for it too."
NEXT: Lennar
Last updated December 20 2010: 2:27 PM ET
All stock prices as of Nov. 30; price/earnings ratios based on estimated 2011 earnings.