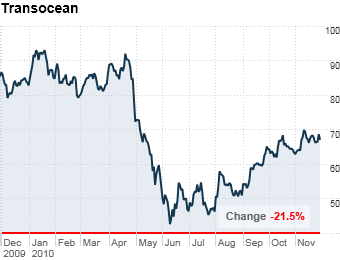 Market cap: $21 billion
2009 Revenue: $12 billion
P/E ratio: 9.2
Dividend yield: N.A.
The disaster that killed 11 workers and spilled millions of gallons of oil into the Gulf of Mexico didn't just crush BP's stock. It also sank shares of offshore driller Transocean, which owned and operated the Deepwater Horizon (which BP had leased). The rig was insured for $560 million -- already paid to Transocean -- but investors feared the company would be held liable for billions in cleanup costs and restitution.
Transocean maintained that its contract with BP shields it from liability. BP disagreed. So Transocean published the contract: BP "shall assume full responsibility for and shall protect, defend, indemnify, and hold [Transocean] harmless from and against any loss, damage, expense, claim, fine, penalty, demand or liability for pollution or contamination ... without regard for whether the pollution or contamination is caused in whole or in part by the negligence or fault of [Transocean]." BP even indemnified Transocean against "gross" negligence or "any other theory of legal liability" claimed by plaintiffs or regulators.
Most analysts now agree the early worries were overblown. "We think that the company is well indemnified against blowout-related liability," writes Stifel Nicolaus analyst Thaddeus Vayda. He has an $82 price target for Transocean shares, up 22% from the current $67.
We think Transocean's upside is even greater, despite increased scrutiny of offshore drilling and the Obama administration's decision to reverse its expansion of gulf exploration. Oil prices have risen 17% since May as global demand has rebounded to 2007 levels. Weakness in the West has masked voracious demand in China and India. As North America and Europe recover, the return of triple-digit oil seems likely. Meanwhile production isn't keeping up with demand. All of that means a greater need for deepwater drilling. And consider this: There's a correlation between the price of oil and the value of the long-term contracts oil companies sign to lease Transocean's drilling rigs. Transocean earned $16.57 per share back in 2007 (when oil prices averaged $64). Apply its current 9.2 P/E ratio to those earnings, and you've got a $150 stock.
NEXT: Royal Dutch Shell
Last updated December 20 2010: 2:27 PM ET
All stock prices as of Nov. 30; price/earnings ratios based on estimated 2011 earnings.