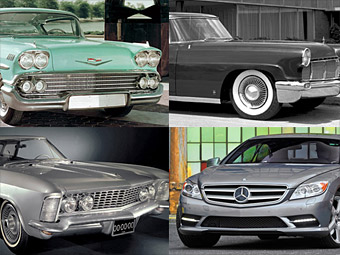 General Motors has reportedly given the go-ahead for development of a big new coupe that would be engineered in England and sold in the U.S. as a Buick Regal. In keeping with the tradition of big two-door cars, it would be powered by a hot engine: a 2.8 liter turbo-charged V-6.
The news is surprising. Buick hasn't offered a Regal coupe for 15 years, and there has been no hurry to replace it until now. Like station wagons, mid- and full-size two-doors seemed like a body type that had become obsolete.
Big coupes were Detroit's style and performance leaders from the '20s to the '70s. Engineers loved them because the absence of rear-door openings made the bodies more rigid, and designers adored them because their sweeping lines and classic proportions made them more fun to style.
Nobody apparently asked rear passengers who had to climb around seat backs and sit with their knees under their chins. The inefficient use of space along with better-looking four doors and expensive crash requirements eventually spelled the end of the big coupe.
But before they became extinct, big coupes were kings of the automotive jungle. Herewith, some notables of the last 60 years: