The scale of Japan's tragedy is still difficult to assess but there are several industries that are particularly vulnerable, and the impact on them could be felt around the globe.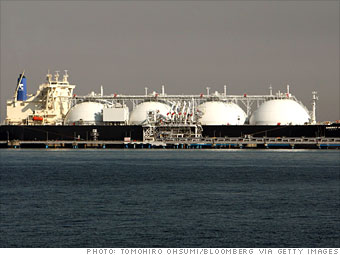 Unlike many of the world's commodities, the price of natural gas has been one of the few that has actually declined this past year.
But perhaps not for long. The production of nuclear power, which accounts for about 30% of Japan's electricity, has stalled as workers try to avert a nuclear disaster following last week's earthquake.
The power disruptions have helped send natural gas futures rallying on speculation that liquefied natural gas cargoes would be diverted to Japan.
On Tuesday, natural gas futures rallied for a third day, gaining 1.2% in the New York Mercantile Exchange to $3.959 a million British thermal units. Despite the recent rise, gas is still down 11% this year.
NEXT: Auto industry
Last updated March 15 2011: 1:31 PM ET