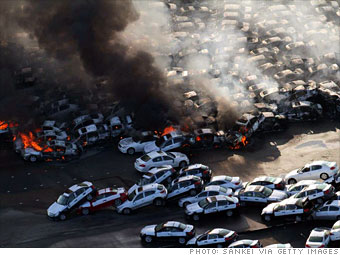 Cars waiting for export burn after an 8.9 magnitude strong earthquake on March 12, 2011 in Tokai, Ibaraki, Japan.
As the world's third-largest producer of automobiles, Japan could expect major headwinds as the natural disasters disrupt production of vehicles sold across the world.
As Fortune's Alex Taylor notes, Japan's largest auto producers are now expected to remain shut down through Wednesday, and some analysts foresee further disruptions lasting months. He also points out that U.S. car buyers will be feeling the effects of the disaster in coming weeks -- Deutsche Bank estimates that about 12% of all vehicles sold in North America come from Japan and that vehicles produced in the region by Japanese automakers contain at least some Japanese-made component.
The next five months are the seasonally strongest of the year for U.S. sales, so extended disruptions could cause shortages of some products.
NEXT: Semiconductor industry
Last updated March 15 2011: 1:31 PM ET