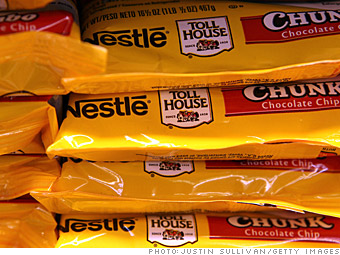 The great minds behind Kit Kat bars aren't just focused on chocolate lovers. Nestlé employs more than 5,000 people at 29 research, development and technology facilities worldwide to help make the company's products nutritious
and
enjoyable all in the same bite.
Its Dreyer's Slow Churned flavors, for example, are half the fat of regular ice cream. After acquiring Jenny Craig in 2006, it launched "Jenny's Cuisines" for weight management.
Company scientists and nutritionists work hand in hand to churn out items that are healthy, nutritional and innovative (peelable ice cream, anyone?) as part of its "Good Food, Good Life" mission.
Nestlé also operates research centers around the world that may bring in expertise from business partners, universities, and independent institutes. Its new innovation center in Switzerland, for example, focuses on cereal, and runs as part of a joint venture with General Mills.
Simply put, Nestlé looks far and wide for genius -- in science and in food.
NEXT: Amazon.com
Last updated March 09 2011: 1:07 PM ET