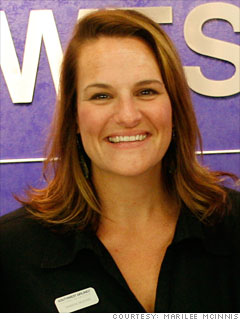 Green star: Marilee McInnis
Title: Founder, Southwest Green Team
Company: Southwest Airlines
In an industry where every ounce of excess fuel translates to increased cost, "environmental decisions make good business sense," says Marilee McInnis, a PR Manager at Southwest Airlines and founder of the company's Green Team.
"Every time we reduce weight, we save fuel and reduce emissions. All of that is absolutely linked."
McInnis runs many of Southwest's green projects, but she's most excited about the company's plans to lighten the cabins of its planes. It's one of the portions of the aircraft that outside contractors don't control completely. So Southwest is stripping down its cabins, adding lighter-weight carpeting, seat covers and life vests. The company is running its new cabin design by regulators, and hopes to make an official announcement about it later this year.
Before McInnis took charge of the company's eco efforts, "Southwest had always been an extremely efficient airline, we just hadn't been talking about it," says McInnis.
Now, McInnis communicates Southwest's green practices to employees across the company as well as consumers. On many fronts, the airline makes simple tweaks that end up saving fuel.
For example, the company is one of the few airlines that washes the plane engines at night so that they burn fuel more efficiently during flights the next day. Southwest is also investing in the Federal Aviation Administration's updated navigation system, which should help planes fly the best routes, again, shaving off excess fuel costs.
The end result will be even more fuel-efficient flights, which translate to an even greater profit margin for Southwest.
NEXT: Crunching data to save fuel
Last updated March 03 2011: 3:01 PM ET