Turning plants into bottles? Putting airline cabins on a diet? Meet 8 leaders at Most Admired companies that are devising innovative ways to make their firms greener.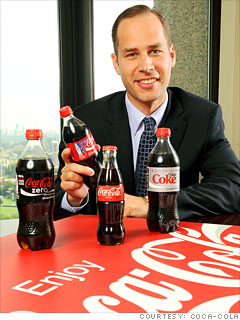 Green star: Scott Vitters
Title: General Manager, Coca-Cola PlantBottle Packaging Platform
Company: Coca-Cola
Coca-Cola has won praise for an initiative that significantly cut water usage at its more than 900 plants around the world. But there's another major sustainability project at Coke. Instead of focusing on Coke's bottling plants, this one aims to make Coke bottles out of plants.
Coke has developed technology to produce fully recyclable plastic bottles that are 30% composed of plastic made from sugar cane. This reduces the amount of petroleum byproducts used to make the plastic.
"There is no other bottle today in the marketplace that is made partially with plants, commercially recyclable and can meet the performance requirements of our products," says Scott Vitters, general manager of Coca-Cola's PlantBottle packaging platform.
Coke wants to share the technology. The company has partnered with Heinz so the ketchup maker can use partially plant-based bottles for 120 million ketchup containers.
The next step will be to make bottles completely out of plant products, and to incorporate plant waste products into the technology. The company already has prototypes in the lab, Vitters says.
NEXT: Putting airplane cabins on a diet
Last updated March 03 2011: 3:01 PM ET