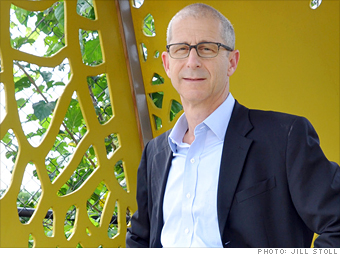 Location: New Orleans, La.
New Orleans has something of a holy trinity, says Kenneth Schwartz, dean of Tulane University's architecture school. He's referring to the three attributes -- great food, great music, and great architecture -- that make up the fundamentals of the city's identity.
Schwartz wants to use architecture as a jumping-off point to launch green initiatives, using Tulane's buildings as an example for the rest of the city. While New Orleans isn't a particularly red city, it has struggled to get the resources needed to rebuild post Katrina.
Schwartz helped seal a partnership between Tulane and IBM that will rewire a century-old building on campus, Richardson Memorial Hall, with cutting-edge technology that can monitor the building's lighting, power, and energy usage. The building will function as a living research facility for architecture students who can use the data generated to learn about energy in old buildings. It's also going to be certified as LEED Platinum, the highest standard of energy efficiency.
The platinum certification, Schwartz says, will be "more than just a plaque on the wall. We're hoping to demonstrate how a historic building can operate as 21st century architecture."
That's a goal that, in Louisiana, isn't split by party lines, Schwartz says. "The public knows and loves the place where they live," and can therefore get behind retrofitting existing buildings -- keeping the building's integrity intact while cutting energy costs.
Schwartz intends to spread this message even further by offering a master's degree in sustainable real estate development at Tulane.