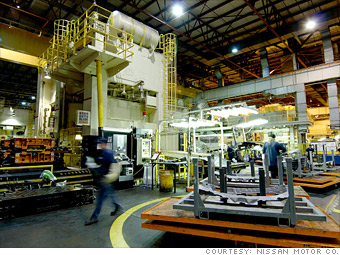 U.S. manufacturing has been one of the rare bright spots in an otherwise annoyingly slow economic recovery. Factories coming off the Great Recession replenished inventory and responded to strong demand from abroad.
Metropolitan areas averaged 2.5% GDP growth last year, but those with large durable goods manufacturing industries grew faster, according to the U.S. Commerce Department.
But expectations of slower growth could threaten the rebound and cities that have gained from it. The ongoing European debt crisis and efforts to curb worries over inflation in China have analysts predicting lower demand for everything from American-made electronics to machinery.
U.S. manufacturing grew 6% during the economic recovery after declining 13% following the financial crisis in 2007. IHS Global Insight economist Tom Runiewicz says the industry has grown 4.5% so far this year. While that's still robust growth, he expects manufacturing growth to slow to 2.9% next year.
Here are 4 cities that benefited strongly from the rise in manufacturing and may also stand to lose the most from its slowdown.