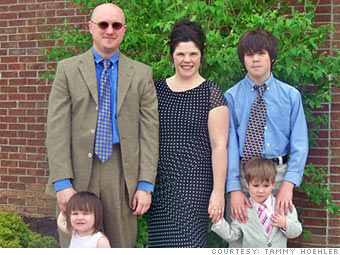 Name: Tammy Hoehler
Age: 35
Occupation: Realtor
Hometown: Somerset, KY
A self-described coupon "newbie who is hooked," Tammy Hoehler spends four hours a day on her habit, scouring the five to 10 newspapers she buys every week, searching online, and even buying coupons. That's on top of being a realtor, mom to three (ages 2 to 13), cake maker, and community volunteer.
She estimates that she and her husband, Paul, are saving an average of 50% on their grocery bills. Her local food pantry gets the extras.
Up next: a class for friends. "I just can't believe I haven't done it all along," says Hoehler. "The money I've wasted when I threw the inserts away as `junk mail' kills me!"