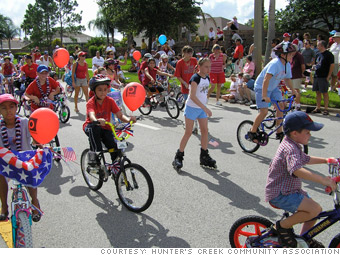 Median home price: $80,000
Median family income: $87,801


What was once just a swamp in central Florida has turned into a thriving community of 12,000 residents.
While Hunter's Creek isn't incorporated -- the county runs the schools and police and fire services -- John Rasnic, the head of the Community Association, said "we think of ourselves as a town."
Anchored by the Hunter's Creek Golf Club, the sport is a big attraction here, but so is access to Orlando's theme parks and the Atlantic Ocean beaches -- both of which are just a short drive away.
While many of the homes lining the fairways cost $300,000-plus, there are plenty of affordable alternatives. Condos are particularly good deals lately. Many were converted from rentals during the housing bubble. Now, banks are selling them at "fire-sale prices," said Rasnic.
See complete data and interactive map for Hunter's Creek