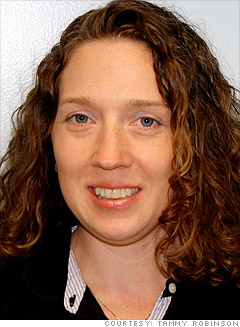 Hometown: Arlington, Va.
Age: 35
Was: Fitness center director
Why I did it:
Six years ago, Robinson felt she'd reached a dead end professionally. "There are a lot more career opportunities as a physical therapist," she says. "It's in greater demand, whether it's with the geriatric population or pediatrics."
How I did it:
Robinson went back to school for three years. "It was challenging," she recalls. "I went from having financial means -- traveling anywhere and doing what I wanted -- to having to go back to school with no income and dedicating my time to studying."
Why I love it:
"It's very gratifying. There's a larger spectrum I can do for people as far as helping them recover from an injury and maintaining health and lifestyle changes."
Daniel Bortz, Anne C. Lee and Donna Rosato - Last updated October 11 2011: 5:07 PM ET