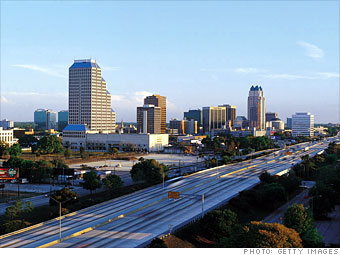 Rent as % of after tax mortgage payment: 137.2%
Median home price change, 2006-2010: -51.3%

Orlando's mayor, Buddy Dyer, has said that the delay of a new rail project that was to connect Orlando and Tampa has been a bigger blow to the already-suffering economy than many realize.

But there are some bright spots in central Florida. Following the housing market slump in Orlando during the past few years, buyers can now take advantage of bottom-level interest rates and low prices for ownership. According to a Florida Realtors report cited by the Orlando Sentinel, the home of the Magic saw a larger price decline during the past 12 months than any of Florida's other metro areas.

In addition, local papers have all reported a return in tourism, at last.
NEXT: Rochester, NY
Last updated March 29 2011: 9:31 AM ET