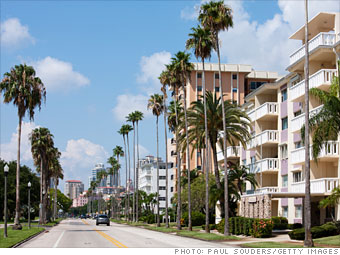 Rent as % of after tax mortgage payment: 131.6%
Median home price change, 2006-2010: -41.4%

Florida learned the hard way that if you build it, they won't necessarily come. It was one of the most overbuilt states during the housing boom, and large subdivisions there still remain vacant or partially constructed.

But boomers are starting to retire, and Florida will always be a desirable destination for the golden years, so that inventory won't sit empty for long. In the Tampa-St. Petersburg area, home prices plummeted so much that it's now much more affordable to own than it is to rent. Government agencies and developers have worked together to promote downtown Tampa Bay to residential buyers, and a number of large projects are underway to attract new buyers.

While it's made progress, it still has a long way to go. The metropolitan area ranks ninth in the nation in foreclosures.
NEXT: Las Vegas
Last updated March 29 2011: 9:31 AM ET