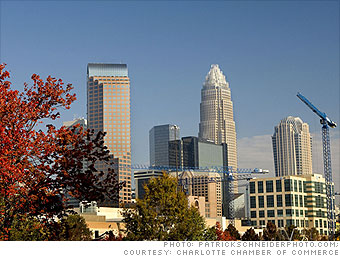 Total Population: 1,758,038
Change From 2000: 32.1%
As North Carolina's largest metropolitan area, Charlotte boasts affordable living and great jobs in a financial services hub.
The growing area has preserved its Southern roots while expanding to accommodate modern-day living, with a skyline that includes condominium skyscrapers and century-old Fourth Ward Victorians. Charlotte attracts young professionals and entrepreneurs who can choose suburban life or a home within walking distance to their jobs.
Home to the headquarters of Bank of America, Charlotte is a banking powerhouse. First deemed a "financial center" back in 1799, Charlotte now has one of the highest ratio of bank branches to population in the nation, according to the Charlotte Chamber of Commerce. The area's bank assets -- $2.3 trillion worth -- are second only to New York.
Wells Fargo/Wachovia employs 20,000 people in Charlotte while Bank of America employs almost 14,000.
NEXT: Orlando-Kissimmee-Sanford, FL
Last updated April 14 2011: 10:33 AM ET