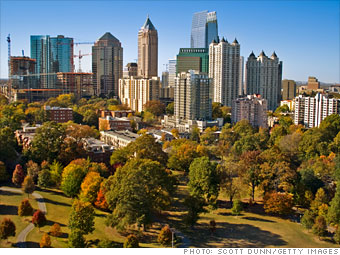 Total Population: 5,268,860
Change From 2000: 24%
The Atlanta-Sandy Springs-Marietta area added more than a million people in the last decade, bringing its total population to 5.3 million. Like much of the country, the metro was stymied during the financial as its robust housing market took a serious hit. In fact, Atlanta now has the most affordable homes in the country,
according to Deutsche Bank
. The median home price fell by 33% between 2006 and 2010, and the average monthly rent is now 50% higher than the average mortgage payment.
Aside from dirt-cheap housing, warm weather, and several prestigious universities, Atlanta has another advantage -- Georgia's old sweet song works on business, too. The city is home to 10 Fortune 500 companies, including Coca-Cola, the United Parcel Service, Home Depot, Delta Air Lines and AFLAC.
NEXT: Dallas-Fort Worth-Arlington, TX
Last updated April 14 2011: 10:33 AM ET