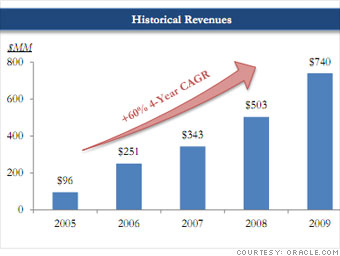 The award for "corporate pissing match of the year" goes to Oracle. It fired off an astonishing series of press releases and jabs at Hewlett-Packard over its $11 billion purchase of enterprise software vendor Autonomy.
The battle started when Oracle CEO Larry Ellison trash-talked the deal during Oracle's earnings call. "Autonomy was shopped to us," Ellison said. "We looked at the price and thought it was absurdly high."
The dig irked Autonomy CEO Mike Lynch, who told the Wall Street Journal a week later that his company hadn't talked with Oracle about an acquisition.
Oracle smacked back a day later with an unusually pointed press release: "Mr. Lynch came to Oracle, along with his investment banker, Frank Quattrone, and met with Oracle's head of M&A, Douglas Kehring and Oracle President Mark Hurd at 11 am on April 1, 2011."
Oracle added: "The Lynch shopping visit to Oracle is easy to verify. We still have his PowerPoint slides."
It wasn't kidding. After Lynch once again denied having takeover talks -- he cast the April meeting as an informal introductory chat -- Oracle responded hours later with a press release titled "Another Whopper from Autonomy CEO Mike Lynch." It also went live with a new webpage: Oracle.com/PleaseBuyAutonomy.
As threatened, the site featured the PowerPoints laying bare Autonomy's financials and forecasts -- exactly the kind of bait companies dangle when talking to potential buyers. -- Stacy Cowley