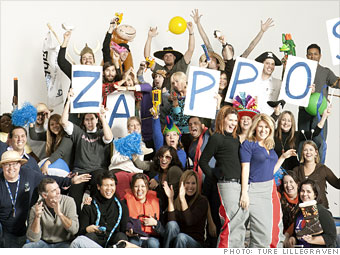 Industry: Online retail
Headquarters: Las Vegas
Headcount: 2,248
Best Companies ranking:
6
The online apparel and footwear retailer famously includes "Create fun and a little weirdness" on its list of core values. Applicants are carefully screened to make sure they can cut it in a corporate culture where rules are few, professional titles include "cruise director," and colleagues frequently stage spontaneous parades down cubicle row.
This quirky zeitgeist appears to have survived Amazon.com's 2009 acquisition of Zappos. Job interviews still take place in rooms with zany themes, including Cher's Dressing Room and an Oprah-style talk show set where candidates sit on a couch next to their HR host. Standard interview questions include "On a scale of 1 to 10, how weird would you say you are?"
There's no right answer to that question, says recruiting manager Christa Foley, 37. "We're looking for people who don't take themselves too seriously," she adds. "Somebody who gets into an argument with us about the definition of 'weird' will probably not be able to handle a parade with cowbells."
Perks include free lunches, 25¢ vending machines (all proceeds go to charity), and a full-time life coach on staff. And customer service is a religion at Zappos: All new hires are required to work in a call center during their first month on staff, even if their jobs don't involve customer interaction.
Best practices:
• HR staffers can (and do) veto hiring decisions if they don't think a job candidate is a cultural fit.
• Senior employees receive no benefits that aren't also given to junior hires.
• HR actively seeks candidates who enjoy socializing with colleagues.
NEXT: DreamWorks Animation
Last updated April 26 2011: 12:10 PM ET