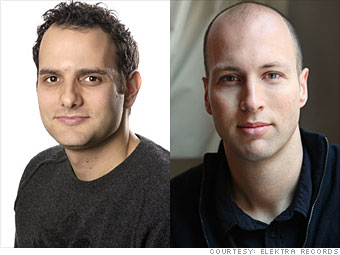 Janick
: Co-president, Elektra Records
Age:
33
Caren
: Co-president, Elektra Records
Age:
34
Industry:
Music
Janick has been a tastemaker since high school, when the record label he started, Fueled by Ramen, signed bands like Less Than Jake and Fall Out Boy. It gained acclaim and earned the notice of Atlantic Records, which hired him and urban A&R wizard Mike Caren to bring defunct record label Elektra, shuttered in 2004, back to life for Warner Music Group. With the help of artists like Bruno Mars and Cee Lo Green, both on the verge of being international superstars, they've done it.
First jobs:
Janick was a tennis instructor; Caren worked in a baseball card shop.