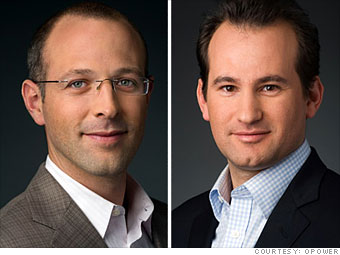 Yates
: CEO, co-founder, Opower
Age:
34
Laskey
: President, co-founder, Opower
Age:
34
Industry:
Green
Yates and Laskey want to save the planet. They first met as undergraduates at Harvard and came together in 2007 to launch Opower, a software startup that generates detailed electricity-use reports -- distributed through electric and gas utilities -- to help homeowners reduce energy consumption. So far Yates and Laskey have been handed nearly $70 million in funding from the likes of Accel Partners and Kleiner Perkins, reach 10 million homes, and say they've saved people over $50 million on electricity bills.
iThermostat:
Opower just partnered with Honeywell to offer thermostats controlled by mobile devices.