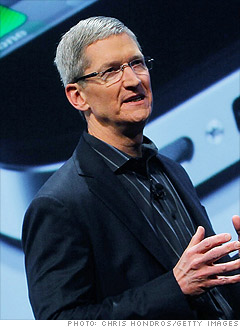 Title: Formerly COO; now CEO
CEO: Steve Jobs
Pay difference: $59.1 million
From 1997 until his death, Steve Jobs
took home just $1 a year in salary
, and most years he collected no bonus. Tim Cook, Jobs' number two, scored a richer deal.
On top of an $800,000 salary and $900,000 bonus for 2010, Cook collected an additional $5 million bonus "in recognition of his outstanding performance" while stepping in for Jobs during the CEO's six-month medical leave in 2009. He also got $52 million worth of Apple stock as a thank you, after receiving no stock compensation the year before.
Cook became Apple's permanent CEO in August, six weeks before Jobs' death. That same day, the board
awarded Cook a restricted grant of 1 million Apple shares
, valued at an eye-popping $400 million. But that rich reward comes with extra-tight golden handcuffs: Cook has to stick with Apple for five years to collect the first half of the payout and a full decade before he earns all of it.
--S.C.
Source:
Equilar, Inc.