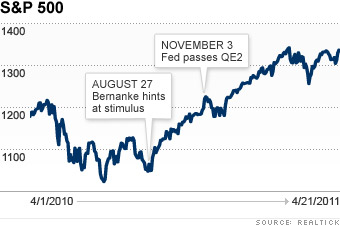 In August of last year, Bernanke signaled the Fed's intent to stimulate the economy by buying $600 billion in Treasury bonds. Investors cheered the controversial plan, called quantitative easing. All three major indexes rallied 1.7% that day.
Since then, the S&P 500 has since risen 25%, and the Russell 2000, which measures small cap stocks, has been up even more -- around 40%.
"I do think that our policies have contributed to a stronger stock market," Bernanke said in January.
But while a stock rally is a good sign for the economy, the benefits haven't exactly trickled down to Main Street. Jobs and housing are still in the doldrums.