Bernanke to meet the press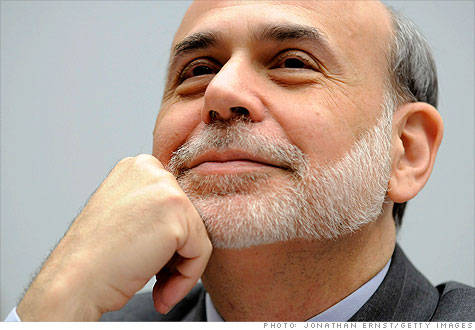 NEW YORK (CNNMoney) -- Tight-lipped Ben Bernanke is coming further out of his shell.
The Federal Reserve Chairman will start holding press briefings four times a year, the central bank announced Thursday afternoon.
"The introduction of regular press briefings is intended to further enhance the clarity and timeliness of the Federal Reserve's monetary policy communication," the Fed said in an official statement.
Under Bernanke's leadership, the Fed has taken baby steps in opening up to the media since the financial crisis. Bernanke appeared on 60 Minutes twice in the last two years, and wrote an op-ed in the Washington Post in November.
That media exposure was tightly controlled though. And unlike his counterpart, European Central Bank President Jean-Claude Trichet who holds press conferences after nearly every policy-making meeting, Bernanke has rarely taken journalists' questions publicly.
Speaking to reporters at the National Press Club in February, Bernanke stressed that the Fed is trying to become more transparent.
"We are looking very seriously at the idea that I would give regular press conferences, in a hope that that would further increase Fed transparency," he said at the time.
The Fed said its four press conferences will take place following meetings when the central bank updates its economic outlook. The first such update took place this January. For the remainder of 2011, the press conferences will follow Fed policy-making meetings scheduled for April, June and November, and will be broadcast live on the Fed's website.