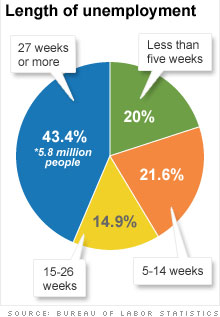 While the job market has started to recover, it's moving at a snail's pace.
And for the roughly 5.8 million people who've been unemployed for more than six months, that's little consolation.
These folks make up 43.4% of all unemployed Americans, and face perhaps the highest bar to re-entering the labor force.
They're competing not only against new college grads, but people who've been unemployed for a shorter period. Plus, employers fear that the longer a worker is unemployed, the more skills they lose.
Facing these challenges, many of the long-term unemployed may choose to give up on the job market altogether.
"I worry that we're going to end up with a lot of people who are disenfranchised and unemployable," said Dean Baker, co-director of the Center for Economic and Policy Research.