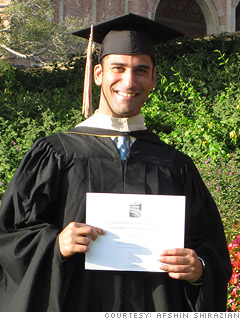 When Afshin Shirazian had trouble finding an internship in the summer of 2009, he knew he had picked a bad time to change careers and go to UCLA business school.
"That's when the bottom fell out," he said.
He graduated in 2010, and has been trying to find a marketing job in the health care field ever since. But so far, he has only been able to find freelance consulting jobs.
"I've moved in with my brother. I don't want to fall back into my previous career. I went to school to make a career
change
," he said.
But he doesn't regret going to businesses school, and is hopeful his prospects will improve.
"I might regret the timing," he said. "At end of the day, I feel I'm a better candidate than I was before. I have to learn to be patient."