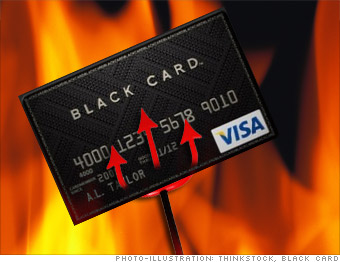 This card, which is made from carbon, looks pretty slick and "is guaranteed to get you noticed," according to the card's website.
But it'll cost you $495 per year to carry it. And it has a 14.99% APR, despite being aimed at consumers with excellent credit.
So what does that hefty fee buy you?
The benefits include a rewards program that offers 1% cash back for airfare on any airline. Customers also receive VIP access to more than 600 airport lounges worldwide and 24-hour concierge service to help with travel plans.
"A $495 fee is excessive using practically any definition of the word," said John Ulzheimer, personal finance expert at SmartCredit.com. "Unless you're a business traveler who lives in airline clubs, it's hard to make a case in support of paying that fee, which incidentally is almost twice as much as I paid for my airline club membership."
But Barclays, who issues the card, maintains that customers are happy with the trade off.
Many factors drive the card's borrowing rate, annual fee, terms and conditions including the value of service, rewards and core benefits," a spokesman said. "Cardholders have been very pleased with these benefits in exchange for the annual fee."