How to slay new checking account fees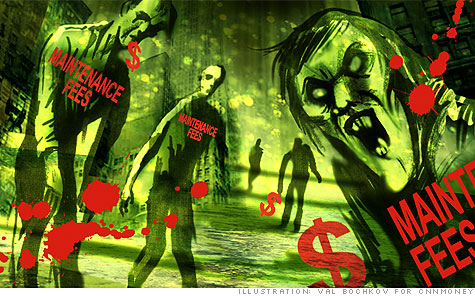 NEW YORK (CNNMoney) -- It's like Night of the Living Dead: Every time the feds kill off a set of fees, they come back to life -- just in slightly different forms.
Chase said that on Feb. 8 it will be enrolling new customers in a new Total Checking account and charging them a $12 monthly maintenance fee.
Similarly, Bank of America announced that by the end of the year it would restructure its checking accounts and implement new monthly fees, ranging from $8.95 to $25. And unless you analyze its four new checking offerings carefully to find the one that best fits your spending habits, you could end up paying anywhere between $100 and $300 extra in fees per year.
"I think it's a fact that there's a new economic reality and regulations," said Susan Faulkner, Bank of America's deposits and card product executive.
An increasing number of banks are adding more -- and higher -- fees to checking accounts in response to the CARD Act, which was rolled out last year.
The rules banned a handful of fees, including certain overdraft and excessive late charges. Others prevent over-the-top interest rate hikes. Most recently, the Federal Reserve proposed a cap on debit interchange fees -- what the bank charges retailers when customers swipe their cards.
But while it may seem that the death of free checking has arrived, there are still ways to make your account free.
"Free checking is going to become less prevalent, but it's not going to go away like the dinosaurs," said Greg McBride, a senior financial analyst at Bankrate.com.
In fact, he added, about 65% of financial institutions still offer free checking, while 23% offer an account where fees can be waived with actions such as direct deposits.
"The upshot for consumers is that what will become more prevalent is the ability to avoid fees with certain options that best suit their needs, like direct deposit, using online statements or having aggregate balances with banks," McBride said.
Here's what the mega banks are up to -- and how to avoid their fees:
Bank of America: Currently, Bank of America (BAC, Fortune 500) charges an $8.95 monthly maintenance fees on most checking accounts. But customers could get those charges waived if they make at least one direct payment each month or maintain a balance of $1,500.
Starting at the end of the year, that will all change. If you want a basic checking account where you don't have to worry about keeping up balances of making minimum deposits, you're going to pay a $9 monthly fee. No way around it.
Can't stand the idea of paying a fee? You'll have to enroll in "enhanced" checking and keep a balance of $5,000 in your total linked deposit accounts --which includes checking, saving and investment accounts. Or you can deposit at least $2,000 monthly, or use a linked credit card at least once a month. If your balance drops below $5,000 or you don't meet the other requirements, you're charged a $15 fee.
Faulkner said that making deposits and keeping certain balances are ways customers pay for their accounts, so if they don't want to do that, the monthly maintenance fee is their form of payment.
But if you're Internet-savvy and don't want to pay a fee, an online account comes with no fees. But you have to receive statements online and only use ATMs. Need to speak with a teller or get a paper statement? Fork over $8.95 a month.
JPMorgan Chase: Beginning Feb. 8, Chase (JPM, Fortune 500) will enroll most of its new customers in a checking account called Total Checking.
The account will charge you a $12 monthly fee unless you maintain a checking account balance of $1,500, make monthly direct deposits of at least $500, or keep a $5,000 balance across all deposit accounts -- including checking, savings and investments.
If you keep your old account, you'll get charged a $6 monthly fee unless you make a direct deposit at least $500 per month or make five debit card purchases. Currently, customers can qualify by making any direct deposit.
"We don't want to raise fees for our customers, but unfortunately regulation is forcing us to do it," said a Chase spokesman. "And as a result, some customers might end up unbanked."
Citibank: Starting in September, Citi (C, Fortune 500) began charging monthly maintenance fees of up to $30.
The basic checking account charges a monthly maintenance fee of $8 on unless you complete five or more monthly transactions, including direct deposit, debit card purchases, bill payments, check payments and ATM cash withdrawals.
Another offering, the Citibank account, charges a fee of $20 unless you maintain a $6,000 monthly balance in linked accounts -- including checking, savings and investments.
Wells Fargo: Wells Fargo (WFC, Fortune 500) ended its "free checking" account in July and now hits customers with $5 monthly fee unless they maintain a minimum balance of $1,500 or make monthly deposits of $250.
Its other accounts charge fees up to $30, but they can be waived if you meet certain requirements, like maintaining higher minimum balances or making automatic transfers to your savings account. That means every account at Wells Fargo offers a way to waive a fee.
Wachovia customers still get to hold on to their free checking accounts, but they will be fully integrated with the bank's other fees -- including $2 charges to receive images of cancelled checks and $10 fees for using your savings as overdraft protection.
HSBC: HSBC (HSBC) hasn't made any changes to its checking accounts over the past year. All customers with basic checking accounts are charged $3 a month, and there's no way around the fee.
Choice account users can avoid a monthly maintenance fee of $8 by using direct deposit, keeping at least $1,500 a month in deposit account balances or maintaining a balance of $5,000 across all accounts -- including deposit accounts, credit lines and investments.
In addition, while other banks let customers link their savings and checking accounts as an alternative option for overdraft protection, HSBC doesn't. That means customers must pay a fee to open a line of credit (if they have good enough credit to qualify), pay a fee for overdrafting their account or get their card declined.
Look outside the mega banks: While you can find ways around monthly fees at most of the nation's biggest banks, many smaller community banks, credit unions and online banks offer free checking without the strings attached.
McBride recommended checking out online banks Charles Schwab, ING Direct, Flagstar Direct and EverBank for free checking accounts and said that the 39 of the 50 largest credit unions offer free checking.
"The fact that 88% offer an account that is free or that can become free kind of throws off the whole notion that free checking is headed for extinction," said McBride. "Free checking is still something that remains within the grasp of the majority of Americans."