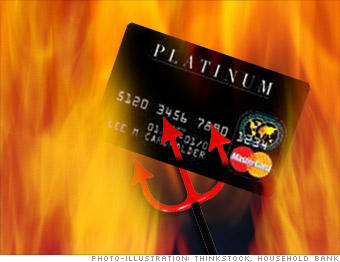 Update: HSBC discontinued the card in March and is now "evaluating market feedback to determine next steps," a spokesman for the bank said.
HSBC advertises the Household Bank Premium MasterCard as rewarding good credit. But this is actually one of the worst credit cards to choose if you have a strong credit history, said Beverly Harzog, credit card expert at Credit.com.
First of all, the card touts its great cash back benefits, but customers only receive 1% cash back on purchases.
"For a cash rewards program, you'd hope it would be better than that," said Harzog. "Typically with good credit you can get at least a couple percent cash back."
Plus, after nine months of a 0% introductory rate, the APR soars to 19.9% for all customers -- no matter your credit score. And the annual fee ranges from $0 to $39.
Customers with good credit -- who typically have a score between 700 and 749 -- can qualify for cards with much lower interest rates, including the Chase Sapphire card with an APR of 13.24%, for example.
"If you have good credit, there are much better choices to look at," Harzog said. "I don't think the 1% rewards makes up for the high interest rate and possibility of other high fees."
But a spokesman for the issuer said the card's benefits are most competitive for consumers with fair credit, despite the fact that its website advertises "good credit gets rewarded."
"We believe our benefits, rewards and terms are competitive, particularly for those consumers with fair and recovering credit who may have had limited access to cards to cash-back rewards, promotional rates and no annual fee," an HSBC spokesman said.