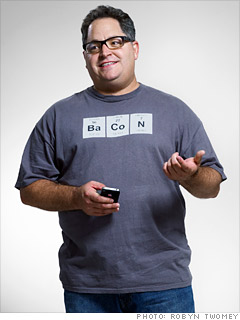 Mike Merrill
Then: Sales executive, Dell and NetApp
Now: Director of marketing, ReachLocal
Mike Merrill seemed made for the corporate ladder. He spent years moving up the sales chain at Intel and, later, Dell.
Merrill, now 41, loved his career. He also loved the trappings of success. "I had this perception that I was going to continue to make more and more money, and get more and more stock," he says. In 2008, Merrill decided it would be a no-brainer to jump from Dell to data-storage company NetApp. It also seemed a no-brainer one February morning in 2009 -- when he received a companywide e-mail announcing an 8% layoff -- that he'd be among the 92% of employees to weather the storm. But one hour later, Merrill found himself out in the pouring rain of the recession without an umbrella.
Some people, when they're laid off, feel shame. They take weeks to tell their loved ones. Others head straight to a bar. But Merrill headed straight for LinkedIn, a site he had used to hunt for sales leads, and posted the following question to his entire network: "Hey, guys, I'm a free agent. Who wants me?" Within 24 hours he heard from the University of Oklahoma's campus computer store, which wanted to boost sales. "It was the first eye-opener for me that, Hey, there's a lot of people reading these updates," Merrill says. He signed on, and using social media managed to double the store's web traffic and triple its sales -- with no traditional ads.
The experience helped Merrill see how social media was reinventing sales and marketing. He decided it could do the same for his career. He devoured every blog and YouTube video about social media, then posted the items he found most interesting, adding his own thoughts about the topic. "I was faking it until I made it," he admits with a laugh. "I created the perception that I was an expert because I shared content in that space."
No longer evangelizing NetApp's products, Merrill started evangelizing himself, leading career talks at his church and speaking to any group that would have him. Always he met professionals curious about Facebook and Twitter but who didn't know where to begin. Merrill encouraged newbies to dive in and not get hung up on being perfect.
Nine months after being laid off, Merrill had gained traction as a social-media maven. But bills for his family of four were piling up. "This is a beating," he told friends. Merrill couldn't turn back. He believed in social media, saw how disruptive it was, and had gained real expertise. He'd reinvented himself; he just needed someone willing to pay the new him.
Then, in the spring of 2010, an employee of ReachLocal, a Dallas-based Internet marketing firm, attended a presentation he gave. By June, Merrill was hired as director of marketing, overseeing ReachLocal's social-media initiatives. "I love the job," he says. "I love giving people feedback, knowing that they're learning something from me." Merrill's new career pays less than his last one, but it gives him more security, because he is allowed to continue his speaking and self-branding. Should he ever need another reinvention, he'll be ready.