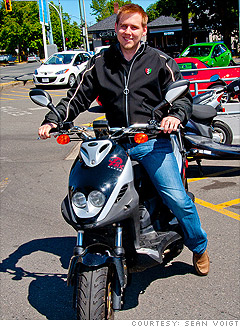 Rider since: March 2011
Model: PGO PMX Naked
$ saved per month: $105-$138
Hometown: Victoria, Canada
With gas prices increasing it became too costly for me to drive my car to and from work. I can't afford to pay car insurance, parking and then filling up my tank for $63 every two weeks. So I bought myself a secondhand scooter for about $2,000 in March and got rid of my Hyundai Elantra.
I ride my scooter every day, everywhere. Even when it's cold, I just wear a protective jacket, gloves and a full face helmet. I pay $6 to fill up with gas -- one-tenth of the price for filling up my car.
And it's so much easier to get parking -- I can park anywhere and don't have to pay $6 a day to park my car when I go to work. Plus, I only pay $23 a month on scooter insurance, and was paying over $100 a month for my car.
*Dollar amounts were converted from Canadian currency to U.S. dollars.