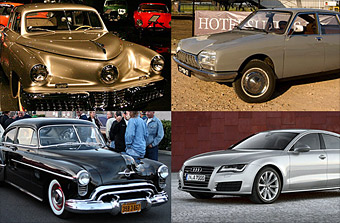 Mercedes-Benz never ignores an opportunity to pat itself on the back. Already credited with devising the first automobile in 1886, it wants to be known for creating also "a new vehicle category." This time, the claimed credit is essentially for a design exercise -- the four-door coupe. The new car in question is the CLS.
The CLS unexpectedly emerged from Mercedes's design center in Stuttgart in 2003, looked like nothing else then on the road, and has been a big success -- having sold 170,000 worldwide. It has also been imitated by Mercedes's German competitors. Redesigned for 2012, it is one of the most elegant and eye-catching cars on the road -- hugely appealing despite the usual stiff Mercedes price of $83,095.
In defining the four-door coupe, Mercedes describes the CLS as combining "the elegance and dynamism of a coupé with the comfort and functionality of a saloon. " In other words, a four-door styled with a more sharply curving roofline -- like a two-door coupe. Mercedes adds, perhaps redundantly, "Customers all over the world benefited from our bold move to launch a completely new vehicle concept onto the market."
But how new is it really? Give Mercedes credit for reviving and reinvigorating the concept. But it isn't exactly revolutionary, as we will see in the following gallery. Herewith, some branches on the CLS family tree, going back to 1940.
By Alex Taylor III, senior-editor-at-large - Last updated July 15 2011: 1:57 PM ET