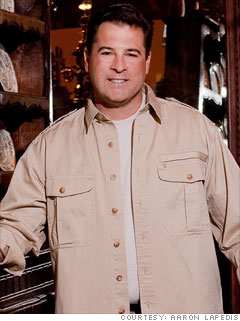 Name: Aaron LaPedis
Age: 45
Hometown: Denver
Day job: Gallery owner
Moneymaking gig: Flipping art and memorabilia on Craigslist and eBay
I got started when I was seven. When my mother and I put on our first garage sale, I got the bug.
A couple of years ago when my art gallery wasn't doing well, I went back to what I knew. Now I go to secondhand stores like the Salvation Army, estate sales and garage sales looking for things I can sell.
I love art and presidential memorabilia. I'm on eBay and Craigslist everyday selling stuff and buying stuff. Just the other day, I bought a piece of art and the description was wrong -- they didn't say it was signed by the artist but I knew it was signed. They were selling it for $400, but I will probably re-list it for $3,200.
If people don't know what it is, or they are in trouble and need the money, then you are going to get a good deal. Because I do it all the time, I probably make half a million dollars a year.