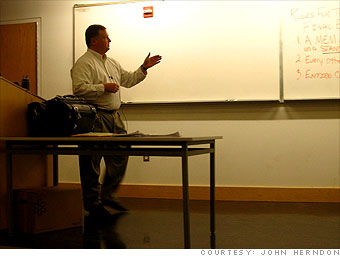 Name: John Herndon
Age: 42
Hometown: Livermore, Calif.
Day job: Consultant
Moneymaking gig: Teaching classes
I am the epitome of the word 'hustle' in today's working environment. We have three kids here at home so my wife and I both have to work. I consult with clients during the day and I teach three classes at a local university at night -- two business law classes and one corporate finance class.
I really enjoy teaching. I get paid for it, but I do it because the texts are written so dryly and I like to give the students something real. But sometimes, I don't get home from class until 11pm at night and that's hard. You spend all week trying to support your family but by the time you get home, they're in bed.
Still, when you have a family to provide for, you have to make sacrifices and you damn well better do it.