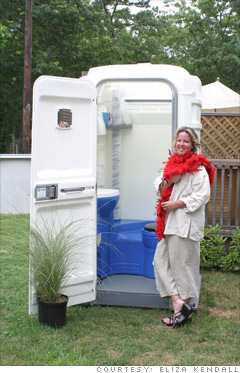 Name: Eliza Kendall
Job: Luxury porta-potty business owner
Salary: $100,000 to $120,000
Age: 54
Hometown: Harwich, Mass.
I never thought I would end up in septic. I started out working as an event organizer for a lot of top companies, until I saw a little porta-potty business for sale.
I realized that there was really nothing out there that combined porta potties with upscale events. So I bought the business, which came with six porta potties and a little trailer with a men's and women's room in it.
Being brought up in a wealthier area, I understand understated elegance. It's not shag red rugs and plastic flowers -- it's cleanliness and things like fresh water in the toilets, lattice work, fresh flower sprays to keep it smelling nice and motion-activated lighting. I even have my own line of amenities like lip balm and lotion that I put next to the sinks.
I started going into Ritz-Carlton bathrooms to see what they do different from a Motel 6 and that's what I would do with my porta potties.
The first year we opened, in 1996, we were in the black -- and we slowly built from there. About 90% of our business is weddings, and we also do special events and fund-raising parties. We charge $345 per unit per weekend, and $850 for the trailer with two rooms.